Post-Pandemic Era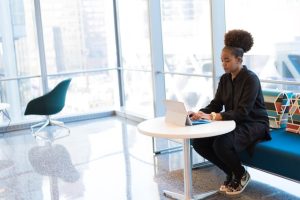 May 31, 2023
Post-Pandemic Era
In the post-pandemic era, employers have either allowed their workforce to remain remote or to work a hybrid manner, where employees have the flexibility to work remotely or in the office.
There are advantages and disadvantages for remaining remote, fully in the office, or hybrid.  Advantages with allowing the workforce to remain remote include being able to hire more geographically diverse employees that provide more opportunities for the organization and the employee.  This includes an improved diverse, inclusive, and equitable work environment along with exposure to different cultures.  Other advantages include a healthy work-life balance that eliminates a commute, and improved productivity and performance, with less distractions.
As with anything else, there are disadvantages or challenges with remote work, that include employees feeling unable to "unplug", feeling isolated, which may lead to a lack of motivation.  It may be difficult for employees to remain focused, as they may have less ability to collaborate and communicate with others. Studies show that the most impacted from remote working are new hires, followed by recent graduates and extraverts.  There are also studies that indicate in-office employees have a competitive advantage.
Harvard has instituted guiding principles of dynamic work for their staff.  According to Harvard, these guiding principles strive for an optimal balance between sustaining its vibrant campus while encouraging work practices for their staff that strengthens its culture.  The workplace is evolving every day.  The way we work, whether it is remote, hybrid, or at the office, is all supported by technology that maintain the quality and timeliness of our work.  The guiding principles include dynamic and evolving workplace, intentional presence, outcomes-based performance, equity, flexibility, and wellbeing,
It may be challenging for organizations with remote workers to remain compliant with ever changing laws and updated policies.  It is important for companies to maintain an updated handbook and to properly display mandatory notices and posters, etc.  This includes electronically posting workplace notices and posters for your remote workers that are readily available online or the intranet, for all employees to access.  Important compliance updates include minimum wage increases, prohibiting employment discrimination, harassment, and retaliation, family leave, etc.  These compliance updates vary by each state.
When an employer is updating its handbook, any remote policy should clearly state that if an employee is to relocate to an area that is not within commuting distance that they must seek approval from management.  It is also important that remote staff understand that a zero alcohol and drug tolerance policy is expected when working on or off the premise.  There is an understanding than an organization's core values extend to wherever an employee is working.
During the pandemic, the states gave employers a lot of latitude by allowing them to treat their employees as workers in the state(s) where the employer is located.  However, now that these roles are becoming permanent, states are strictly enforcing rules regarding the tax status of remote, multi-state employees.  States are now forcing employers to treat these workers as employees of the states where they are performing services. There can be tax implications if organizations do not properly classify workers as being employed in the state where the remote, multi-state employees actually perform services.  Check out one of our latest blogs, Remote Workforce In Another State? Taxes May Get Harder For Some Companies.
HR has an opportunity to engage with leadership and step into an empathetic and supportive role by providing policy information and guidance along with support for management by authentic and purpose driven strategies.  Since the start of the pandemic, the value of HR has finally been recognized, and endlessly evolving.  Nonetheless, HR needs to hold themselves and their organizations accountable, in all areas, especially DEI.  Please note that all organizations are different.  What works for one organization may not work for another.
Industrial U.I. Services (IUI) is a nationally recognized leader in Unemployment Insurance Cost Control and Human Resource Services. IUI is proud to provide personal service by staff fully knowledgeable about the particular laws of each state in which its clients do business, from the inception of the UI claim through the entire hearing and appeal process. The Human Resource services include employee handbook development and implementation, employee relation consultation, policy development, management training including diversity equity, and inclusion (DEI), anti-harassment and compliance, and other vital and necessary HR support services.