IUI's HR Support Team Had a Busy Week!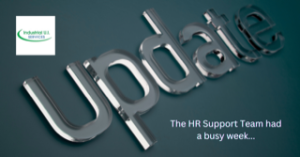 Oct 24, 2022
IUI's HR Support Team Had a Busy Week!
Industrial U.I. Services (IUI) had a busy week, where we attended an Awards Gala in Jersey City and the Garden State Council-SHRM (GSC-SHRM) Conference in Atlantic City.  We are very proud of Anthony Paradiso & JoLynn Haresign, as Anthony received an award for LGBTQ+ Equity and JoLynn did a terrific job presenting about Conducting Workplace Investigations in AC.  We dive into both events.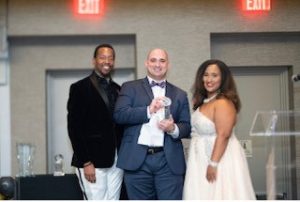 Anthony Paradiso received a Global Impact Award by The Bowman Foundation for Workplace Equity & Mental Wellness, for LGBTQ+ Equity.  This was the Foundation's 1st Annual Global Impact Awards and Gala, which showcased contributions of accomplished change agents, leaders, and organizations across sectors and industries committed to cultivating impactful change in their workplaces and communities. This was an opportunity to praise and acknowledge remarkable individuals and organizations creating inclusive workplaces across the globe.
Anthony is a champion for diversity, equity, and inclusion (DEI), and specifically for LGBTQ+ inclusion.  He is a leader of unbiased work environments that have proven to deliver positive results that include retention, revenue, teamwork, and productivity.   As a member and local leader of the LGBTQ+ community, it is important to have representation and have a sit at the table.
He was proud to share this event with the IUI team— Principals Todd Cohen and Adam Swartz, as well as Liza Duval, JoLynn Haresign, and Ebi Ogbu.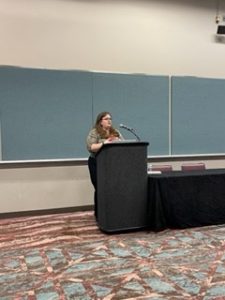 JoLynn Haresign had the greatest time presenting at the GSC-SHRM Conference in Atlantic City on Conducting Workplace Investigations.  JoLynn was thrilled to be part of it all, especially with such great minds sharing their insights.  She was able to share this experience with other members of the IUI team, Adam Swartz & Anthony Paradiso.  Our team was able to make new friends and connections and it was great to support JoLynn's presentation.  JoLynn hopes to get invited again next year.  Some highlights from her presentation include:
Why all employee complaints should be taken seriously?
When is it safe to handle a complaint on your own, and when do you need to get help?
If the issue is related in any way to illegal conduct, or there are potential legal implications, legal counsel should be contacted
If you decide an investigation is necessary and the issue is ongoing, you may need to take additional steps to keep employees separate and/or safe from any further threats, retaliation, or harassment while you investigate.
Stabilize the workplace, put out the fire and hold off on discipline until an investigation is complete.
Reiterate the company's no retaliation policy.
We would be delighted to provide training to your HR staff or managers on how to investigate properly and advise on any other complex HR issues that you may encounter.
Industrial U.I. Services (IUI) is a nationally recognized leader in Unemployment Insurance Cost Control and Human Resource Services. IUI is proud to provide personal service by specialists who are fully knowledgeable about the particular laws of each state in which their clients do business, from the inception of the UI claim through the entire hearing and appeal process. The Human Resource services include employee handbook development and implementation, policy development, management training including diversity equity, and inclusion (DEI), anti-harassment and compliance, and other vital and necessary HR support services.