Incorporating LGBTQ+ Pride month into the larger picture of inclusivity in the workplace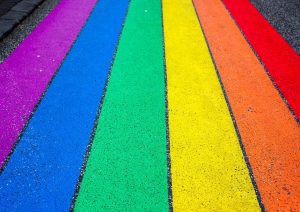 Jun 14, 2022
Incorporating LGBTQ+ Pride month into the larger picture of inclusivity in the workplace
Anthony Paradiso, MS, SHRM-CP, and JoLynn Haresign, SHRM-CP work with employers across the country as part of Industrial U.I. Services (IUI) HR Support Services Division.  Anthony Paradiso, a top 100 DEI leader, and VP of HR Support Services with IUI), whose pronouns are he/him is part of the LGBTQ+ community and is proud to be a local leader.  His most recent presentation, Diving Into LGBTQ+ Inclusion, delves into the importance of inclusion and its impact towards the LGBTQ+ community, employees, coworkers, and how allyship is essential.  JoLynn Haresign (she/her) is also VP of HR Support Services (IUI) and works with employers all over the U.S to provide consultation and training on complex HR issues, developing policies and programs to assist in creating a more inclusive workplace.  
As we celebrate Pride month each June, we turn our focus to develop new and improved ways to be more inclusive in our workplace. While being better allies during Pride month is a great important start, we should always be examining our workplace culture in terms of broader inclusivity. Don't just make our LGBTQ+ employees and vendors feel included for Pride month alone.  We should be making diversity and inclusion a priority for all.  Pride month, after all, is a celebration and encouragement for employees to be their most true and authentic selves. A more diverse and inclusive workplace culture creates effective communication, productivity, and collaboration.
Here are ways employers can continue to create a more inclusive workplace after pride month:
Always review your Mission/Vision statements to ensure there is language included to promote inclusion, diversity, and equity.  We want all employees to feel free to express their authentic selves.  A mission/vision statement is a steppingstone to representing your company's values and goals.
Make diversity a priority in terms of hiring and promotions, for LGBTQ+, race and ethnicity, religion/belief, gender, socioeconomic status, creed, etc.  A more diverse workplace brings different perspectives and shows those who use your services or purchase your products that you strive to be more diverse and inclusive.  In addition, use more inclusive language in your job postings.  It is essential that your organization embraces inclusion, so your employees and potential candidates can be their true authentic selves.
Be mindful that not all employees will be enthusiastic about celebrating diversity.  We should be encouraging, not mandating, showing that diversity is celebrating togetherness, respect, kindness and civility above all, even if cultural or religious beliefs are a factor.
Create and advertise Corporate Social Responsibility (CSR) programs that involve everyone and have dedicated staff members and resources for CSR. CSR programs vary in scope, but a few examples include giving to nonprofit groups, such as LGBTQ+ organizations, minority and/or women led nonprofit organizations, by providing volunteers or through monetary donations, offering job-training programs or internships targeting LGBTQ+ and minority candidates.
Recognize important dates for the LGBTQ+ community throughout the whole year and create or improve employee resource groups (ERG)
Review your policies to remove gendered language and training materials to include women, and people of color, and review dress code policies for gender specific language in employee's dress and personal appearance.  We may want to encourage wearing Pride T-shirts and buttons but be sure that we would also do the same for other diversity themed celebrations, such as Black History Month and Women's History Month.
Keep an open mind, and an open door.  As HR Professionals we should always be looking for ways to promote diversity and inclusion.
IUI is a nationally recognized leader in unemployment cost control and HR Support Services. Let us help you meet your diversity initiatives and celebrations of diversity! We provide a range of human resources support services. These #HumanResources services include employee handbook development and implementation, policy development, management trainings including inclusion, diversity, and equity (IDE), anti-harassment, and other vital and necessary HR support services.  Please contact Anthony Paradiso or JoLynn Haresign for further information.
We look forward to partnering with you!