HR Carnival/Mental Health Awareness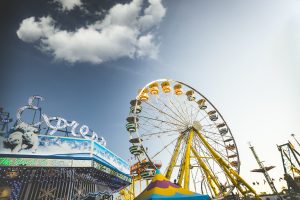 May 30, 2022
HR Carnival/Mental Health Awareness
We are excited to host HR Carnival this month.
Industrial U.I. Services (IUI) is a nationally recognized leader in unemployment cost control and while we continue to have impeccable service in that area, we'll also be providing an additional range of human resources services. These new and exciting #HumanResources services include employee handbook development and implementation, policy development, management trainings including inclusion, diversity, and equity (IDE), anti-harassment, and other vital and necessary HR support services. Please contact Anthony Paradiso or JoLynn Haresign for further information. We are eager and energized to offer these necessary additional services.
May is Mental Health Awareness month. Being part of the LGBTQ+ community has taught Anthony the importance of having an inclusive, equitable and diverse environment and that includes having empathy, patience, and embracing authenticity – having this is important for our mental well-being.  JoLynn is glad to take the time in May to dedicate awareness to the issues of mental health and ending the stigma surrounding it. She has had personal experience with mental illness, losing close friends who suffered in silence. JoLynn's hope is that every day we recognize the importance of compassion, understanding and kindness to each other, above all else.
Below are blogs surrounding the important topic of mental health:
Psychological Safety in the Workplace: Your Top 8 Questions Answered by Ann Snook
https://www.i-sight.com/resources/psychological-safety-in-the-workplace-your-top-8-questions-answered/
Fatigue by Steve Browne
https://www.sbrownehr.com/fatigue/
Five Ways That Employers Botch FMLA for Mental Health Conditions (and how to get it right instead) by Eric Meyer
https://us10.campaign-archive.com/?e=cc70a2db86&u=41fab58a900ff039c399dedb8&id=91f2f8aa38
A Point of View: Inside My Anxious Mind: Supporting Employees Who Have Anxiety and Related Disorders by Sarah Morgan
http://www.theinclusionsolution.me/a-point-of-view-inside-my-anxious-mind-supporting-employees-who-have-anxiety-and-related-disorders/
Writing While Angry by Mary Faulkner
https://survivingleadership.blog/2022/05/25/writing-while-angry/
How To Stand Up For Yourself At Work by Laurie Ruettimann