Employer Vaccine Mandates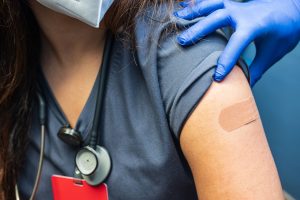 Sep 14, 2021
Employer Vaccine Mandates
As employers begin the process of bringing employees back to a communal office setting, many are taking steps to ensure a smooth and safe transition.  
While federal requirements for mandating a COVID-19 vaccine are evolving on an almost daily basis many states, cities, health care employers, universities, and large corporations have already announced employer vaccine mandates in order to return to work, in an effort to ensure the safety of employees, customers, etc. A vaccine mandate refers to imposing a consequence for vaccine refusal. The consequence can be a fine or denial of access to a service, job, or to venues like hotels, cruise ships, and sports events. Employees without a valid medical or religious exemption who refuse to be vaccinated risk losing their jobs.
Would employees who refuse employer vaccine mandates be eligible to receive unemployment insurance benefits? 
Unemployment Insurance is an employer-financed program in which employers provide funds to the Departments of Labor, either through taxes or dollar for dollar reimbursement, for benefits paid to eligible former employees.   Unemployment Insurance is a joint state-federal program, and while each state administers its own UI program, all states follow the same guidelines established by federal law.  The unemployment eligibility of employees who fail to obtain a COVID vaccine in violation of an employer mandate is yet to be determined.  Unemployment eligibility in each state is largely based upon prior case law.  As COVID vaccine mandates is still a new and fluid situation, states are only beginning to establish guidelines for determining UI eligibility for employees terminated for failing to comply with their employer's vaccine requirements.   
In determining UI eligibility, many states consider whether an employer has "changed the terms and conditions of employment", causing an employee to either resign or be discharged. Historically, many former employees were ruled eligible if an employer made a unilateral change to the material conditions of employment and then required its employees to comply or face penalty. For example, an employee hired as a maintenance worker who is later required to obtain a driver's license and transport passengers would have good cause to leave the job if that employee were unable or unwilling to obtain a driver's license. If that same employee was terminated for failing to comply with the new requirement, that person would generally be eligible to collect UI benefits.   State Departments of Labor may consider the requirement of a vaccine that was not agreed upon at the time of hire as a change in the terms and conditions of employment, and then decide whether a person should be eligible to collect UI benefits if that person quits or is fired for failing to comply. 
Are employer vaccine mandates reasonable?  
UI eligibility for people who quit or are fired for failing to be vaccinated may depend on the reasonableness of a particular employer's mandate. For example, health care workers or restaurant employees who regularly interact with other employees and the public may be viewed differently than a worker who works in a position that is relatively isolated.  A mandatory workplace vaccination program must meet standards under the Americans with Disabilities Act (ADA) of being "job-related" and "consistent with business necessity."  This includes assessing the threat to the safety posed by unvaccinated employees.  The determination will be based on facts and circumstances involving the workplace and job – such as whether work is conducted indoors or outdoors, or the frequency and duration of an unvaccinated employee's interaction with other people. Decisions may also take into account the most current medical knowledge about COVID-19, such as the level of community spread of the virus. 
Under the ADA, employers are generally required to provide reasonable accommodations for employees who, due to a disability (including pregnancy) do not get vaccinated against COVID-19.  Under Title VII of the Civil Rights Act, reasonable accommodations are also required for employees who do not comply based on a sincerely held religious belief.  Such accommodations are required unless they would pose an undue hardship, substantial difficulty, or expense on the employer.  If an employer decides that an unvaccinated employee could pose a safety threat, the employer must consider whether a reasonable accommodation could reduce or eliminate that threat. In these situations, could the employee be required to wear a mask, get periodic tests for COVID-19, or be given the choice to work remotely?
Union employees
Employers with unions have an added layer of complexity when determining how to safely bring back employees and whether unionized employees can be required to comply with a new vaccine mandate. Traditionally, changes to collective bargaining agreements must be properly negotiated prior to implementation, unless the change falls within the so-called "management rights" exception to collective bargaining.  It remains to be seen where a vaccine mandate will fall, and employers in a union environment should consult with their labor attorney on this issue.
Best practices
Communicating an employer's expectations regarding vaccinations is key to limiting UI liability for separations related to non-compliance.  Employers should provide written notice of any requirement to employees so there is a clear understanding of what is expected and should provide a reasonable time frame for employees to comply.  
Employers relying on vaccine mandates and other guidance to challenge UI claims should be sure that their requirements are consistently and uniformly applied
We expect to see unemployment claims for employees separated for failing to comply with new vaccine mandates, and as these are adjudicated by the Departments of Labor in the various states, it should become more clear as to the best way for employers to handle these situations in a manner that is safest and most effective for all employees.  The initial cases may very well be inconsistent in the result and may require an ultimate ruling from the state's appellate tribunal or from the Courts.  Furthermore, the issue may be resolved differently in different states.  We will of course be monitoring this issue and advise of significant developments.
INDUSTRIAL UI SERVICES/UNEMPLOYMENT COST CONTROL