Professional Development & Beyond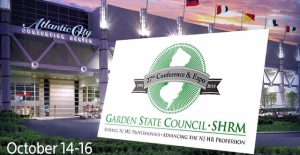 Nov 14, 2018
Professional Development & Beyond
GSC-SHRM Conference & Expo
Written by Anthony Paradiso, MS, SHRM-CP
This is the second GSC-SHRM Annual Conference & Expo in Atlantic City, NJ that I have attended. I attended last year in 2017. The 2018 conference was excellent. Why Excellent?? The programming was top notch. There were a variety of sessions to choose from this year ranging from areas such as leadership, interpersonal, and business topics. Additionally, the sessions were aligned with the SHRM Competencies. My experience was different this year as I was the Social Media Conference Chair. Being involved with the conference committee from start to finish was great.
This blog is a summary of the events that took place in AC along with the various sessions that I attended. As always, I want to thank Industrial U.I. Services for its continued support for my professional development.
There were keynotes by Devon Harris, Lou Lessig, & Melissa Stockwell
Devon Harris discussed the importance to keep pushing oneself. Devon communicated the habits and lessons he learned and practiced as an athlete. Now as an entrepreneur, he developed his own business as a highly sought-after motivational speaker. In addition, he is the current head of the Jamaican Bobsled Program. The audience learned the following: develop an entrepreneurial mindset, find comfort in discomfort, practice effective leadership, build a winning team, be persistent, and to take care of yourself.
Lou Lessig (partner with Brown & Connery, LLP) discussed the influence of you. Whether it be in person, over the phone, or through an e-mail, there is a moment when you engage and offer an opportunity to positively influence decisions made by yourself and by others. Use your influential abilities and put them to work for you. Active Engagement = LISA (Listen, Internalize, Strategize, Action). Imagine what you can achieve!
Melissa Stockwell discussed her experience from Baghdad to Rio and beyond. The audience heard an inspiring message about maintaining a perspective in leadership and in life from an American hero, who triumphed over personal tragedy to achieve greatness, and now has dedicated her life to chasing remarkable accomplishments while giving back to others, particularly those who face challenges similar to her own.
GSC-SHRM Mega Sessions attended:
Rethinking, Rebuilding, & Reinforcing Culture to Transform HR with Joe Urbanski (COO & Organizational Culture Strategist with Total Solutions Group)
How do you…
Recruit the right people?
Onboard & train your people?
Boost overall morale?
Engage your workforce?
Expand leadership capability?
Build a lasting legacy?
It all starts with culture transformation. Start with the right questions:
1) What's really driving your organization?
2) What will ensure that your people are taking ownership to move the organization forward?
3) What's at the core of improving the development and optimization?
The answer needs to be CULTURE. Culture is at the center with everything you do all the time. Culture influences job descriptions, recruitment, morale, communication, etc. etc. etc. Whatever kind of company you represent, your success is largely determined not only by your products and services, but by your company culture. Basically, everything in your life is largely determined by culture. The culture at an organization is a living, breathing, dynamic identity that defines your organization's purpose, direction, and values by empowering your people to take ownership and make decisions to drive forward what your organization really needs.   If you build a positive company culture, employees will come and stay.
To drive a cultural transformation, paint a picture, tell a story, and craft a vision.
Mindful or Mind Full?: Decluttering the Busy Leader's Mind with Harriet Stein (Owner of Big Toe in The Water, LLC)
At this GSC-SHRM session, Harriet reviewed how to easily and quickly develop a mindfulness practice to help enable you to increase your productivity and allow you to sleep at night. Paying attention has become a skill that can be relearned.
Mindfulness is a way to ensure that your attention is in the present moment. It is noticing all that is going on both around you and within you at the present moment. Additionally, mindfulness enables you to become an expert in knowing oneself. It is important to acknowledge that people who participate in mindfulness practices, illustrate a decrease in stress, in pain levels, and see an improvement in sleep quality, which leads to a happier and healthy lifestyle.
In this session, Harriet had the attendees participate in a brief exercise in which we took a moment with our eyes closed to fully notice how it felt to be in our bodies. In doing so, we noticed where our bodies were making contact with what we were sitting on and simply just rest in the moment.
Suggested practices: take a deep breath and pay attention and notice your mood, your thoughts, and your body sensations without judgment.
Concurrent GSC-SHRM Sessions attended:
#MeToo – A New Era? With Andy Botwin (President/CEO of Strategy People Culture, LLC)
In this session, we discussed what has transpired around workplace harassment and discrimination. Andy talked about the history of the law up through the recent "#MeToo movement". Employers should be paying close attention to the work environment spanning from risk management to cultural atmospheres. In 2017, over 84,000 claims hit the EEOC. Among the claims, race accounted for 34%, sex accounted for 30%, and retaliation accounted for 49% (largest and fastest growing).
Questions to think about:
What have you done in your business to mitigate risk as a result of the #MeToo era?
Are you prepared to effectively manage an employment claim when it arises?
How is your business proactively enhancing your human capital assets culturally?
The 5 A's of Sustainable Diversity and Inclusion with Tayo Rockson (Speaker, Consultant, & Media Personality who runs UYD Management)
I have known Tayo for approximately 2 years. Tayo is truly a remarkable individual and has a vast knowledge regarding diversity & inclusion. He has spoken at a number of SHRM Chapter events and receives nothing but highest praises from his attendees.
To truly make a difference with diversity and inclusion initiatives, it requires focus, investment, and energy from EVERYONE. It is imperative for organizations investing in creating inclusive cultures to build a strategy that is framed to be sustainable. Tayo shared a framework that leaders could implement to foster environments on the individual, group, systematic, and marketplace level.
Tayo's slides gave a clear definition of diversity. So…What exactly is diversity? Diversity refers to demographic differences that distinguish one person from another. These differences may be observable or non observable. Diversity goes beyond visible differences as it is also includes things that we cannot see clearly at times.
The 5 A's are: Assess, Arrange, Apply, Accountability / Analysis, & Affinity. For further details about the 5 A's, click here for Tayo's blog.
Tayo's motto, Use Your Difference to Make a Difference
Evaluating a Leadership Development Program: A People Analytics Case Study with Sy Islam (Assistant Professor at Farmingdale State College and Co-Founder and Principal Consultant with Talent Metrics) & Michael Chetta (Co-Founder and Principal Consultant with Talent Metrics).
This GSC-SHRM presentation focused on a review of an evaluation of a leadership development program for a Fortune 100 technology client. Sy & Michael reviewed the processes of creating appropriate criteria to judge the effectiveness of a leadership development program. Additionally, they discussed the creation of a data collection plan and how they reported their findings.
How to evaluate a leadership development program?
Pre-Program

During Program

Post Program

Define leadership

Content

 

Evaluation Criteria

Instructional Objectives
Implementation
Kirkpatrick Criteria
Afternoon Delight: Creating a Sustainable Environment of Acceptance and Belonging in a Quick Results Culture with John Baldino (President of Humareso)
John is another speaker that I have known for years. He is one of the reasons that I am so active with the GSC-SHRM as the Diversity & Inclusion Director.
John is one of the best presenters out there. I saw John last year at GSC-SHRM and he was phenomenal. He is a great speaker who also is a great storyteller. His presentation topic at #GSCSHRM2018 was on diversity & inclusion. If you know me, you would know that one of my strongest passions is for D & I. I've seen many D & I presentations and John's was particularly outstanding.
This session was to provide insight around behavioral modification primarily focused by BF Skinner, as it applies to cultural changes in the workplace. Additionally, the healthy forms of peer pressure and groupthink were discussed.
D & I programs today are largely in the development mode. Often, organizations are failing to adequately communicate, manage and measure their D & I programs. In John's presentation, he points out that while diversity among the leadership ranks has shown the potential to drive innovation and change, most organizations do not mandate diverse leadership in its ranks and most fail to reflect substantial diversity in their leadership teams.
In order for a D & I programs to succeed, we must have:
Symbiosis
Longevity
Innovation
Daring
Expectations
Powerful Leadership: Building the Capability Your Organization Needs with Jack Gottlieb (Founder and CEO of Total Solutions Group)
We want to achieve transformation and breakthrough results in our organizations. Transformation and breakthrough results require more than just hiring/training great people based on their job expectations and holding them accountable during their year-end review. At the core, the transformation begins with what capability we, as organizations, need to drive our culture and strategy to be built on ownership.
Empathy – The Super Power Every HR Professional Needs with Joel Peterson (COO with Goshow Architects)
I recently had the pleasure of getting to know Joel. Joel is a great person with a very kind heart. Hence, he was the best person to speak on this very topic. Empathy.
This session was very powerful. Joel did a fantastic job relating empathy to leadership and to our everyday lives.
Did you know? We are 99.9% genetically identical.
Did you know? We have a pre-reflexive form of understanding each other.
Did you know? The neural structures in our brains that are involved in processing and controlling executed actions, felt sensations and emotions are also active when we detect the same actions, sensations and emotions in others.
Joel emphasized that human beings have similar mirror neuron systems that allow us to deeply "get" the experience of others.
When we hear the word leadership, we also hear many buzzwords such as experience, communication, positivity, decisive and many others. But, how about empathy?
First and foremost, it costs $0.00 to be a decent human being. To empathize, one must actively listen. Listen with your ears, eyes, and heart. Active listening tips: quiet the noise, allow people to finish their thoughts, asks questions to understand, maintain eye contact, take notes, and remove distractions.
Joel ended with the following quote by Vittorio Gallese, "We are born to resonate with each other at the deepest of emotional levels."
It was a great experience attending the GSC-SHRM Conference for the second year in a row and I look forward to next year's conference. If you have not attended a SHRM Conference, I highly recommend it, as it is great for networking, developing long lasting connections, learning new best practices, and so much more. I am also a huge advocate of professional development & appreciate a company, such as Industrial U.I. Services, who support their employee's growth in the industry.