Avoid Unemployment Claims with Effective Documentation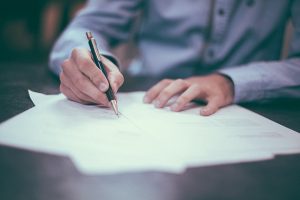 Jun 4, 2018
Avoid Unemployment Claims with Effective Documentation
Effective Documentation
Today's employers are consistently facing unemployment insurance claims from their former employees. It's common for employers to be frustrated, but there is one supportive way to increase an employer's chance for success in challenging unemployment insurance claims – effective documentation.
Effective documentation protects employers and is one of the most important tools that can be used when protesting unemployment insurance (UI) claims. When an employee is guilty of hostile behavior, insubordination, and other misconduct situations, effective documentation can help prove the employer's case.
If an employer is scheduled to attend a UI hearing, they should have any necessary written documentation organized and accessible. An advantage an employer has during a hearing is written and signed documentation. These records will provide the judge additional proof that the employee has done something misconduct related and that the employee was on notice that the violation was grounds for discharge.
Effective documentation is essential but if there is a hearing, the employer must also provide first hand witnesses.  The chance of success at a hearing without first hand witnesses is extremely minimal especially if the claimant denies engaging in the underlying misconduct.  A combination of proper first hand witnesses and effective documentation will greatly enhance the employer's case.
The type of documentation does matter – be sure you have the proper forms and policies in place. It's best to have records that have been signed by both the employer and employee.
To get the best chance at winning a hearing, make sure these written documents are kept:
Company policies/signed employee acknowledgment
Job descriptions/contracts/offers
Disciplinary actions/writeups
Company policy changes
Resignation letters
Termination forms
Witness statements
Minimize issues and employer unemployment cost during the termination process by documenting an employee's actions and behavior. Any incident, especially the final incident, will be viewed and highlighted if an unemployment claim arises.
Handling the unemployment insurance process can be challenging and that's why most businesses rely on the benefit of a third party. It's wise to hire a dependable third party to handle the process for you. Industrial U.I. has spent years helping companies focus on what's most important as they move forward. Contact us today to learn more about our unemployment tax services.